Home is more than just an asset for us. Besides being a testament to our success, it's an embodiment of our emotions – a place where we don't just exist, but live and thrive in the purest sense.
We, at SPA Group, understand and value the emotional investment one makes in a home and have therefore crafted luxury environments that revolve entirely around you. The personalized mansions at Frangipani Estates reflect this philosophy inside out. Right from the landscape surrounding the private estates to the internal design layouts, every element at Frangipani Estates exemplifies not only luxury but also careful thought and intent.
Read on to uncover the sheer detailing and thought that goes into designing every single abode at Frangipani Estates – India's first private estate community, off Sarjapur Road.
An Experience that Begins Right from the Entrance
As you drive your stretch sedan on the well-maintained, 75 feet cobbled road leading to your estate, you are welcomed by tree-lined boulevards adorned with exotic flora amidst a tropical landscape. But wait, this is just the beginning of the unparalleled experience that awaits you at your private estate in this one-of-kind residential wonder.
Space & Privacy will be the Least of Your Concerns Here
As you walk towards your mansion, you will feel captivated by the vastness of the green, meticulously curated landscape that surrounds your estate. Each estate at Frangipani is cozily secluded from the other by 3 layers of trees, each serving a specific purpose. The first level of trees allots complete privacy to every estate, followed by the second level of exotic fruit-bearing trees, and finally the third level of foliage comprising flowering plants that exude lovely fragrances. They are placed strategically to make optimum use of space and resources so that each estate has its own captive skyline of beautiful flora and foliage
The sprawling estates, ranging from 22,000 Sq. Ft. (0.5 Acre) to 44,000 Sq. Ft. (1 Acre), are designed to experience the sheer benefits of '" expansive space". Regardless of the elevation you choose, these expansive estates can comfortably accommodate your open-air plunge pool, your own backyard kitchen garden, your separate private party lawns and many more rare indulgences.
Elevations that Elevate Your Lifestyle Quotient
Finally, as you enter your tastefully crafted mansion, you get to bask in pride at your choice of a home. At Frangipani Estates, you get to choose from 3 distinct elevations – each one featuring exquisite designs reflecting nature, contemporary architecture, and floor plans that help each corner of your home stay connected with nature.
Irrespective of the elevation you choose, you get the complete freedom to personalise the interiors of your mansion to suit your style and vision.
Here's a glimpse of these elevations which are architectural marvels in their own right:
1. Earth: Where nature becomes you
The single-level mansions take the meaning of living amidst nature to a whole new level, literally. Featuring sprawling lawns reaching all the way to the roof and an automated watering system, these mansions create a cozy environment for you that's 3-5 °C cooler than regular homes. The unique design has common spaces separated from private bedrooms and personal spaces – all of which are connected by a central spine that opens up to picturesque views of the green landscape on all sides.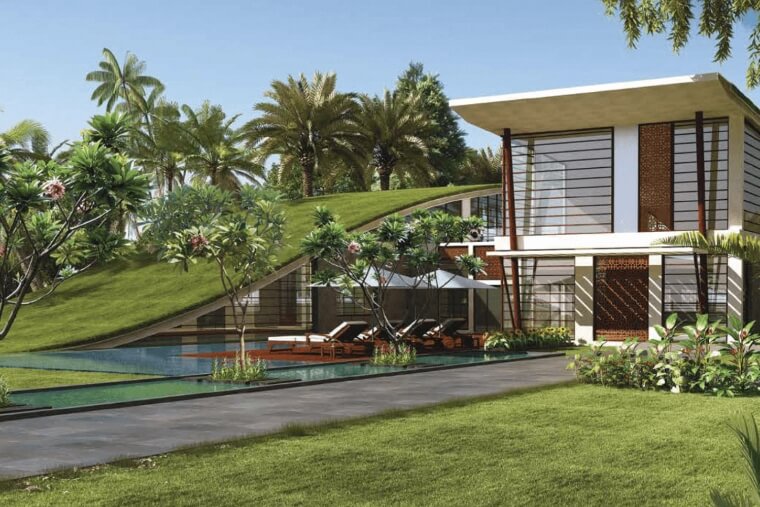 2. Pavilion: Where less is more, way more than you expect
Designed as per the standards of minimalism, this elevation appeals to contemporary estate owners who believe in simple yet unique living. Every room in the Pavilion elevation is flooded with natural light and ventilation. The mansions are thoughtfully designed around a central spine with private gardens on both sides of the rooms.

3. Courtyard: Designs that revive nostalgia
Remember those good old homes with brick tile roofs and a beautiful central courtyard where you could spend your leisure hours? Imagine having your mansion designed in the same style of architecture with The Courtyard elevation at Frangipani Estates. Inspired by the architecture from Bali and Kerala, these homes are designed around a grand central courtyard with integrated lotus ponds, semi-covered living and dining areas, naturally ventilated bedrooms, and a central garden open to the skies.


These deliberately designed architectural elements constitute the distinct elevations to ensure that nature is at the forefront of your estate. A dedicated estate management team is always at the helm of things to ensure the upkeep of your mansions and the community infrastructure.
Besides the modern, classic, and eco-friendly houses, the community also includes the rarest privileges ready to take your living experience to the next level.
2-Acre Private Lake Serenity
2-Acre Rejuve Park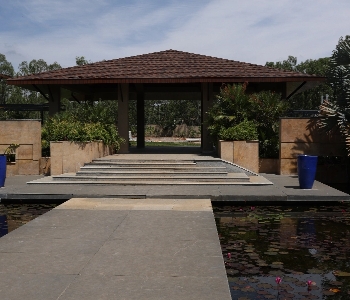 2-Acre Balinese-themed Club Plumeria
1-Acre Palm Triangle
The mansions at Frangipani Estates are a potent combination of the finest architecture and intricate detailing that goes beyond the tangible. The community is strategically located off Sarjapur Road, one of the most coveted and fastest growing neighbourhoods near Bengaluru. Residents here get to stay secluded from urban chaos, yet remain comfortably connected to workspaces, quality healthcare, reputed educational institutions, and lively entertainment avenues.
Come, experience an exquisite life beyond the ordinary at Frangipani Estates.